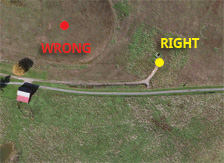 Well location audit is a verification process performed as a new survey is being acquired that allows for the confirmation or correction of well locations in the client database. As a survey is being acquired a detailed listing of all wells in the area are provided to the survey crew. Santos then ensures that all wells are tied into during the seismic survey and then takes that information and cross references it against the client database to identify and correct location and elevation errors for the given area using the re-surveyed well locations, and then verifying each location with imagery.
We're not delivering earth shattering news when we make the assertion that most client well databases have several inaccuracies - whether it is vendor sources of well locations or even internal conflicts between well databases across different divisions in the company, well databases seem to be littered with inconsistencies and error. In fact, in a recent client survey we found 90% of well locations had errors ranging from 60-400 feet! It would be like trying to complete a puzzle with the wrong shaped puzzle pieces; trying to draw correlations between wells with inaccurate location information can be an arduous if not impossible process.
As surveys are being acquired, requiring the survey crew to tie into all well locations as part of the deliverables of the contract allows exploration companies to begin the correction process of their well databases. Santos will then take on the detailed work of comparing the resurveyed well locations to all client databases and then verifying those re-surveyed well locations against imagery and well plats, to confirm the well location as surveyed in by the contractor. The end result? A report that outlines any location or elevation errors for well locations in the client database and in most cases an explanation of error sources when available. In this way, systematic and random errors can be identified and rectified in your well database, giving you the competitive advantage of having audited well data sets, and the peace of mind that you are making decisions off of information that you know to be correct.
You wouldn't start a road trip relying on GPS navigation without knowing the address of your final destination. We have all been in that situation where we assume because we are using our GPS we will get to our final destination; the reality is that unless the inputs are correct, and your GPS is updated with the latest maps and road information, it may take you a lot longer to get your final destination, if at all. Well locations are no different. Stop wasting time with inaccurate well to seismic ties, and wondering which might be correct. Make sure your well locations are accurate and verified, and most of all, consistent within your database company-wide. The best part? Well Location Audits are performed in conjunction with Survey Audit as part of our quality control process - and for less than 1% of the seismic acquisition project cost you can ensure that your field data is complete and spatially accurate, along with the assurance that the well locations in your database are verified and correct.