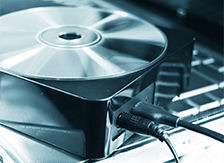 Santos Data Management department provides an economic solution to managing seismic data, allowing oil and gas companies to focus on what they do best - finding oil and gas.
Santos sets up and maintains a logical filing system for hard-copy seismic data that can be located in-house, at a storage facility, or both. The filing system includes: paper sections (stack and basic data), shotpoint maps, and project folders.
Data is only as good as its accessibility. Santos geotechnical services cover the gamut, from generating maps, to producing detailed line listing with information on ownership, vintage, total kilometers or miles, and much more.
We create workstation projects, well-file updates, and project conversions. To keep your projects moving smoothly, we retrieve and transmit data from storage, seismic processors, and survey auditors. And to keep your business house in order, we do the housekeeping from tracking projects, AFE's, and invoices, to cleaning up and recovering data.
A focus area of SANTOS is merger and acquisition projects where we can come in, get the work done, and get out. The data is merged quickly, efficiently, economically, with no long-term employee costs.
Santos works with the client's choice of data software along with our proprietary data management database, "Seismic Survey", built on the MS Access database platform. "Seismic Survey" is used for database creation, updates, queries, and client data migration.
Santos data management department creates an efficient, cost effective data management system that allows for instant access to your data assets and a streamlined workflow as data changes hands between contractors, processors, and vendors.